Le parole di Johnny Depp per Ray Harryhausen
Ray Harryhausen, produttore cinematografico e ideatore di effetti speciali, è scomparso Martedì 7 Maggio all'età di 92 anni nella sua casa di Londra.
Tra le molte star che hanno voluto omaggiarlo c'è anche Johnny Depp che ricorda lo straordinario maestro con queste parole:
Non c'è nulla che io possa dire di Ray Harryhausen che non sia già stato detto nel corso della sua brillante esistenza. Sarà sempre amato, e a ragione, per la sua genialità unica. E' stato un onore aver condiviso del tempo con lui. Ora il mio pensiero va ai suoi cari.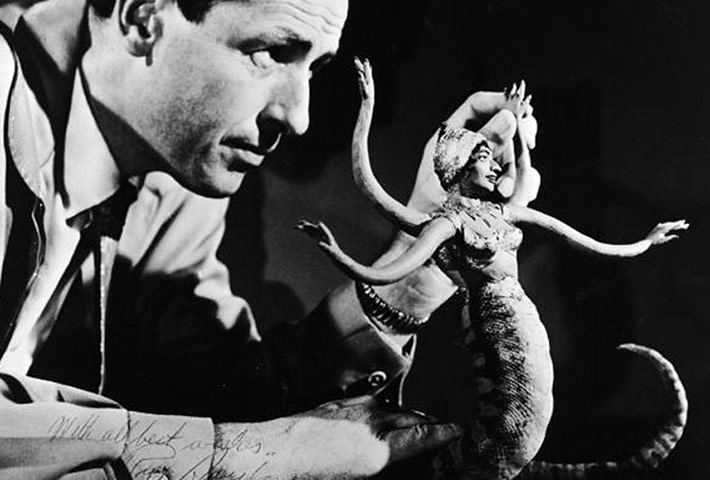 Johnny Depp risponderà alle domande delle fan riguardo "The Lone Ranger" in una conferenza in diretta su internet.
La Disney ha reso pubblico che Johnny Depp e il suo collega Armie Hammer parleranno dell'atteso film d'avventura il 17 aprile dopo la proiezione di 20 minuti di girato esclusivo a circa 400 fan presenti al Las Vegas Theatre.

Anche il regista Gore Verbinski e il produttore Jerry Bruckheimer prenderanno parte alla conferenza, la quale sarà trasmessa in diretta su Yahoo Movies and Livestream.
Le fan lontane da Las Vegas potranno sottoporre le loro domande per il team di "The Lone Ranger" via Twitter e guardare il trailer del film online (dato che il materiale esclusivo sarà riservato alle persone presenti a Las Vegas).
La promozione del film coincide con l'annuale CinemaCon, dove si presume che la Disney offrirà una simile presentazione ai proprietari di cinema e teatri. "The Lone Ranger" uscirà il 3 luglio.
I video dei Kids Choice Awards
Il 23 Marzo Johnny Depp ha partecipato ai Kids Choice Awards a Los Angeles portando a casa il premio come "Attore preferito" per il film Dark Shadows.
IFOD ha sottotitolato in italiano il breve discorso di Johnny mentre ritira il premio.
Ricordiamo anche che l'intero show sottotitolato andrà in onda sui canali Nickelodeon di Sky domani 27 Marzo alle 20.30.
Questa è invece un'intervista nel backstage dell'evento.
Late Show With David Letterman SUB ITA
Una gentilissima utente del Forum di IFOD ha registrato per tutti noi la trasmissione Late Show sottotitolata in Italiano ed andata in onda ieri sera su Rai 5.
Johnny Depp è ospite di David Letterman insieme all'amico Bill Carter, qui i video della puntata.
Grazie a Daniela
Video: Johnny Depp e Bill Carter al Letterman
Ieri sera Johnny Depp ha partecipato alla registrazione di una puntata del Late Show With David Letterman: l'attore ha suonato insieme al gruppo Bill Carter and The Blame la traccia "Anything Made of Paper" e poi ha risposto a qualche domanda del conduttore.
Ecco qui i video completi della serata.
Johnny Depp e Bill Carter ospiti al Letterman Show
Venerdì 22 Febbraio Johnny Depp parteciperà alla puntata del Late Show With Letterman insieme a Bill Carter e i Blame.
Pare che l'attore, durante la trasmissione, suonerà insieme al gruppo che proprio in questo periodo sta promuovendo in nuovo album Unknown.
Appuntamento a Venerdì notte!
Johnny Depp NON ci sarà nel nuovo film di Anderson
La smentita arriva direttamente dal regista Wes Anderson: Johnny Depp non farà parte del cast di "The Grand Budapest Hotel".
Ecco qui un estratto di un intervista di Anderson.
Il tuo prossimo progetto è "The Grand Budapest Hotel" e ci sarà Johnny Depp?
No, non c'è Johnny Depp.
Oh, no?
No. C'è un sacco di … Sai, Internet ha un modo di annunciare le cose tutto suo. Non ho mai detto niente di tutto ciò, davvero, non so da dove sia partità la notizia. In effetti, Johnny è una persona con cui mi piacerebbe lavorare ad un certo punto, ma lui non ci sarà in questo film.